What is VPN? What is VPN tunnel? Everything you should know before you select a VPN service.
What is VPN?
A VPN tunnel is a term for a virtual connection between two points, for example a server and a computer, between which network traffic can be sent encrypted and thus protected from unauthorized third-parties. VPN is an acronym for virtual private network and a VPN connection is often likened to a tunnel to describe traffic traveling through a tunnel preventing others from manipulating it or reading it from outside the tunnel.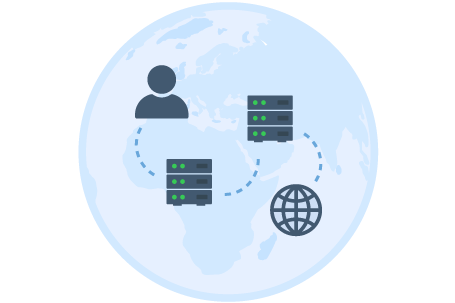 What is a VPN-tunnel used for?
To prevent Internet traffic from being intercepted


Because the traffic sent through a VPN tunnel is encrypted, it is protected and impossible to intercept. As Internet eavesdropping and cybercrime has become more commonplace and as governments, Internet providers and companies such as Google and Facebook use ever-more privacy-invasive tools on the Internet, VPN services have become a popular tool for individuals to protect their privacy and online anonymity.



To view geoblocked content
Because many news sites and streaming services have geographical restrictions for copyright reasons on their digital content --meaning that only Internet users with an IP address from specific geographic locations can access this content -- it is also common to use VPN tunnels to connect to another country or area that is different from the physical location of the user.
This has long been a popular method for connecting to streaming services such as Netflix and HBO but also for accessing news content via for example the BBC. For more information about circumventing geoblocked content, take a look at our
Streaming page
.

To reach local networks externally


The original use for VPN tunnels was to be able to simulate a presence on a local network despite being physically located outside the network. As an example, this is useful for employees of a company that needs access to work materials on the company's local network server while they are not at the office. Another example is to be able to connect two geographically separated offices and share digital resources.



VPN tunnel Sweden

VPN services in Sweden have a good reputation among VPN users all over the world as Swedish VPN services are usually stable due to the good digital infrastructure in Sweden. Good infrastructure and development also means that bandwidth is relatively inexpensive, which means that VPN providers offering their services here can keep their operating costs down and at the same time offer user-friendly VPN clients.

Many foreign Swedes and Swedes traveling outside Sweden also use VPN services in Sweden to be able to watch Swedish TV and Swedish streaming content.

There are a number of established Swedish VPN services such as OVPN.com, Mullvad, and Anonine. There is a constant discussion about which VPN service is the best, and, as a rule, different VPN providers are good at different things.


VPN clients on different operating systems


Mac OS X och Windows



OpenVPN GUI


OpenVPN is a private company that provides the most widely used OpenSource solution to create a VPN connection. In principle, all VPN services aimed at consumers use OpenVPN's technology and protocols to create their VPN connections.
For Windows, OpenVPN also offers its own client completely free, which can be used to connect to most VPN services. As a rule, the VPN provider offers its customers configuration files that are run in OpenVPN GUI to connect to their particular VPN servers.
If you want to test connecting to OVPN.com with OpenVPN GUI you will find a complete guide on how to get started with
VPN tunnel via OpenVPN GUI here
.

Tunneblick for MacOS



Viscosity

Finally, Viscosity is an application for both Windows and OS X developed by the company SparkLabs. Unlike Tunnelblick and OpenVPN, the technology is not OpenSource and the client must therefore be purchased. However, the client uses configuration files from the VPN provider in exactly the same way as described above. A guide for getting started with Viscosity for Windows and Mac OS X with OVPN.com can be found here:


OVPN-client
The problem with OpenVPN GUI, Tunnelblick and Viscosity is that they are often considered difficult to install and use, which is why OVPN.com has built its own customized OVPN client. In addition to the client offering simpler installation and a more user-friendly interface, there are some extra features such as automatically connecting to the currently fastest server, automatically preventing DNS leaks, and disabling Internet connections if the VPN tunnel goes down (killswitch) which prevents exposure at connection.
You can get started with our own client here
.
VPN for iPhone, iPad and Android
OpenVPN also offers free OpenSource apps for iPhone, iPad and Android. These apps are called OpenVPN Connect. These apps work similar to OpenVPN GUI, Tunnelblick and Viscosity where configuration files are used to connect to a specific VPN provider.
A guide on how to get started with OVPN on OpenVPN Connect for iPhone, iPad or Android can be found here:
VPN-tunnel on router

Some network routers can configure a VPN connection directly through the router's own interface (similar to configuration files run through OpenVPN GUI, Tunnelblick and Viscosity). This means that you can set up a VPN tunnel directly on your router and thus protect your devices by being connected to this instead of having to install clients on each device.
Although installing a VPN tunnel directly on the router can be more convenient for you, it is important to note that the encryption employed on a VPN connection usually requires a lot of processing power -- which few routers offer -- even if they support VPN use. This means that most routers are only able to maintaining a VPN connection of 20 - 30 Mbit/s at the most. If you have faster internet connection than that, it can be greatly reduced because of this.
Vilfo
Since regular VPN routers are not good at coping with the encryption that a VPN requires, OVPN recommends using router developed specifically for the demands of a VPN --
Vilfo
. In addition to having significantly greater processing power and thus being able to encrypt at high speeds, extended functionality is also offered through easy installation and integration of OVPN and associated functions. This includes creating different VPN connections for different groups of devices connected to Vilfo, but also automatically preventing DNS leaks and automatically preventing exposure if the VPN tunnel drops the connection.