1. Download Viscosity
Viscosity is an alternative software used to connect to VPN servers. Viscosity is free for the first 30 days. After that you will have to pay a one time fee of $9 if you wish to continue to use it.
Download the latest version of Viscosity here.
2. Install Viscosity
To begin the installation, double-click the file you downloaded in the previous step. Go through the installation process.
3. Download the configuration you want
Double-click the .ovpn-file to import it to Viscosity.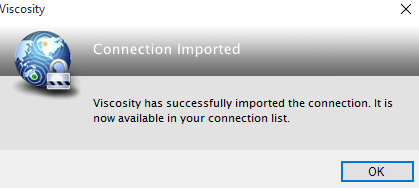 4. Connect to OVPN
If you check the activity field, in the lower right corner of your screen you will see an circled padlock as an icon. That is the Viscosity-icon. Click the icon and choose to connect to the configuration file you previously imported.
The icon can also be hidden if you have many programs running. If so, click the arrow in the activity field to find it.
Click the Viscosity-icon again and choose to connect to the configuration file you imported. Enter your login credentials for OVPN.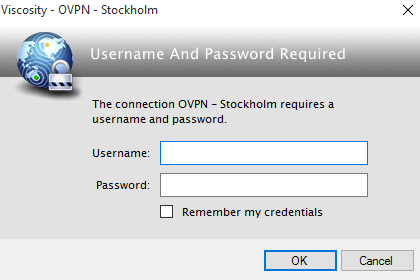 Check Remember my credentials if you wish for Viscosity to remember your login credentials
5. Finished
You should now be connected to OVPN and be able to browse the internet safely. To make sure everything was set up correctly, please check the dashboard to verify that you are connected.