OVPN has been in court for the past two months fighting an information injunction from movie companies which were represented by the law firm The Rights Alliance. I posted an initial article about it in early July and an update regarding the process in August. Throughout the injunction, which occurred simultaneously as OVPN turned six years, we have been standing firm to protect our customers.

We took the case incredibly serious as it sets a precedent in terms of logging requirements on Swedish VPN services. Today, the Patent and Market Court reached a decision: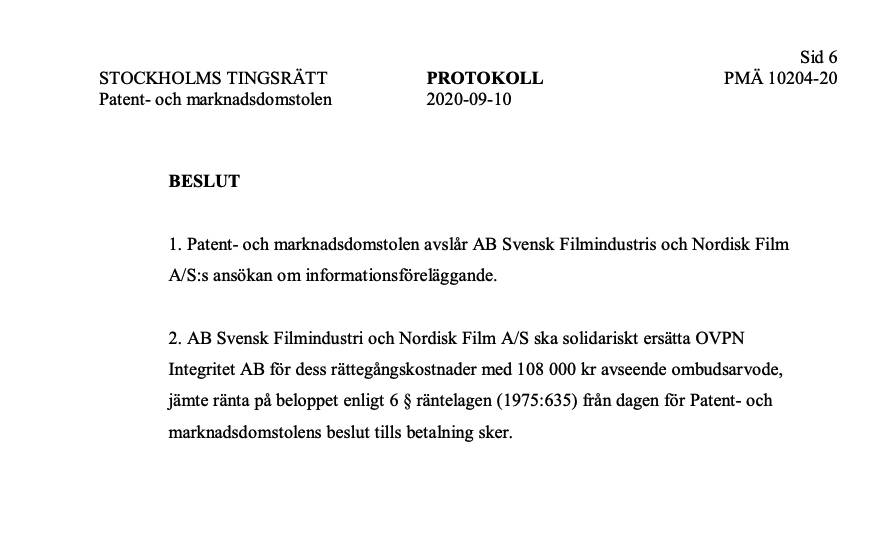 To summarize the verdict, the Rights Alliance and their security experts have not been able prove any weaknesses in OVPN's systems that could mean that logs are stored. OVPN therefore wins the information injunction as our statements and evidence regarding our no log VPN policy have not been disproven. The movie companies also need to pay OVPN's legal fees which amounts to 108 000 SEK (roughly $12300 at current exchange rate).

We're publishing the entire information injunction (in Swedish), consisting of 56 case files, for the curious reader.

OVPN is one of very few VPN providers that have had their no logs claims proven in court. OVPN is the only Swedish VPN provider that has proven that no logs are stored.
Going forward
Besides the verdict, which we're elated about, the court also raised an interesting point that applies to all VPN services in Sweden. In the section of the verdict regarding OVPN's request that the movie companies should pay our legal fees, the court states that each party needs to carry their own fees when an internet provider refuses to provide information about one of their customers.
The verdict then continues and says that "[t]he current case can not be equated with those cases" and therefore the movie companies are required to pay OVPN's legal fees.
From that, we interpret that the court agrees that OVPN is not an internet provider — which we have argued all along. Therefore, the data retention directive does not apply to OVPN.
Our main goal is to protect people from hackers and avoid being monitored online. We wholeheartedly believe that people have a right to communicate privately whether it is in a physical or a digital world. Communications online should be as private as a communication in a room between two people. To be clear: We do not, in any way, endorse or advocate using OVPN to commit crimes. It's something we are very clear about in our Terms of Service.
OVPN is the VPN service to use when privacy matters, and we firmly believe that privacy always matters. As such, our entire infrastructure is built with privacy & security as the core principles. OVPN does not log any activity when connected to our VPN service. Therefore, we do not know who is connected to our service, what they are doing or when they did it.
As a result of this court order, our customers can once again be reassured that OVPN takes privacy seriously.
---
Note: all quotes have been translated from Swedish.