Watch Telia Play+ abroad
Telia Play, or Telia Play+ as it was previously called, is Telia's streaming service. With Telia Play, you also get access to C More and HBO Nordic, which means that despite the high monthly price (SEK 199), it is cost-effective and competitive. Both C More and HBO Nordic cost SEK 109 / month each, so by buying Telia Play + it will be cheaper in total - and you get a better offer through an additional streaming service and also 15 Swedish TV channels.
Following the new EU directive 2018, all streaming services that cost money must allow people to access their streaming service when the person travels within the EU for a limited time. This means that as long as you travel within the EU, you can watch Telia Play + abroad. However, if you are resident in another EU country, it is possible that Telia Play+ will not work when you are abroad as the EU directive does not apply in such cases.
In addition, the new directive does not apply to streaming services that are free, such as SVT Play. SVT Play blocks all visitors who are not from Sweden, or who use a VPN service so that they appear to be in Sweden.
Bank ID to become a customer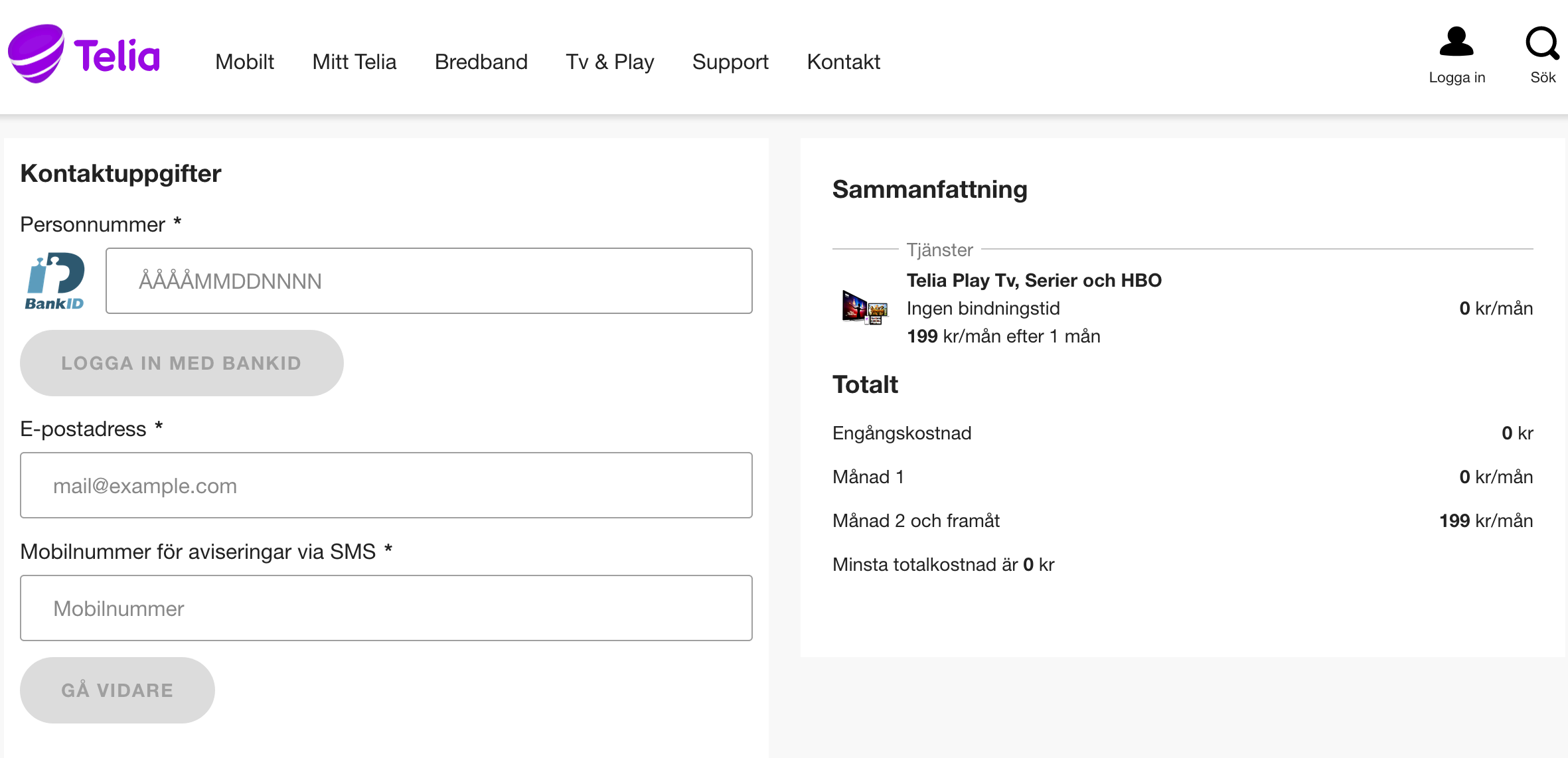 Telia Play+ requires that you enter your social security number when you become a customer so that they can check your registered address. We guess that it is an attempt to block Telia Play for Swedes abroad. If you live and are registered abroad, you can check with a friend or relative if they are willing to create an account for you.
Stream Telia Play+ abroad

If you are outside the EU, the above-mentioned EU law does not apply and Telia Play will not work when you are abroad. Unless you use a VPN, that is. With OVPN — which is a Swedish-owned VPN service that was founded in 2014 — it looks like you are in Sweden regardless of where you are.
Telia Play+, like many other streaming services, regularly tries to block VPN services in order to prevent access to the content you pay for. OVPN, on the other hand, has built-in special support which allow you to circumvent these blockages. This means that OVPN is one of a few VPN services that makes it possible to watch Telia Play+ abroad.
Telia Play's website works on all operating systems, but according to their own statement, one of the following browsers are required:
Google Chrome (from version 75)
Internet Explorer (from version 11)
Microsoft Edge (from version 42)
However, we have tested Firefox and it is possible to stream content using that browser. It is important to note that they specify that Safari does not work, so macOS users should keep that in mind. You can also stream Telia Play via their mobile apps and tablets.
Since OVPN works on Windows, macOS, Ubuntu, Android and iOS, it's possible to watch Telia Play+ abroad — no matter what computer or mobile phone you use. Telia Play also has an app for Apple TV (generation 4 or later) and for some LG & Samsung TVs (not based on Tizen).
In case you are outside the EU and want to stream Telia Play on an Apple TV, Samsung TV or LG TV, you must install OVPN on your router. We have several guides for different routers, for example Asus. However, the absolute easiest way is by purchasing a Vilfo VPN router. It's expensive but worth every penny. As an example, with Vilfo, you can make your Apple TV the only device on the network connected to a Swedish VPN server.
Another great advantage of OVPN is that OVPN enables a variety of other streaming services, not just Telia Play. With an OVPN subscription, you get access to the entire US library of Netflix, Hulu or Disney Plus, to name a few.
If you have any questions, please feel free to contact our support.