Over the past couple of months, users have asked for American VPN servers. Yesterday we were happy to announce that both our Miami and Los Angeles datacenter locations are launched and ready for use. As a way of being transparent we'd like to tell you more about our setup and show pictures of the servers in the Los Angeles VPN datacenter location. Welcome to Los Angeles!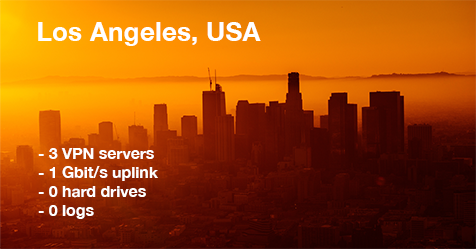 The Los Angeles datacenter
We currently rent a quarter-cabinet (10 Height Units) in Quadranets datacenter on 530 W 6TH ST, Los Angeles. As of now, we have a 1 Gbit/s uplink to QuadraNets backbone. QuadraNet peers with hundreds of different ISPs, for instance Telia, GTT, Cogent, ChineUnicom, Equinix Exchange and Google Direct. As soon as we're close to reaching the 1 Gbit/s uplink we will expand to 10 Gbit/s. Each server is connected with 2x1 Gbit/s. However, to be conservative we will only expect that each server can handle 1 Gbit/s.
Also take a look at the post about our Miami datacenter
As soon as we get close to reaching the max capacity of the servers, we will upgrade the datacenter with an a SYS-5038ML-H8TRF blade system in order to continue delivering great speeds to our customers.
The three servers in the rack are the same model, namely HPE ProLiant DL20 Gen9, and they are equipped with an Intel Xeon E3-1230v5 3.4GHz processor, 16 GB RAM, and 2x1 GbE Intel NIC. Just like in all other datacenters, these servers are run without any hard drives or any other form of permanent storage.
As traffic picks up we can fit at least an additional two blade systems into the rack, meaning 16 servers, increasing the capacity to encrypt and anonymize data to 16 Gbit/s.
Below are some pictures of the equipment and the Los Angeles datacenter server cabinet.