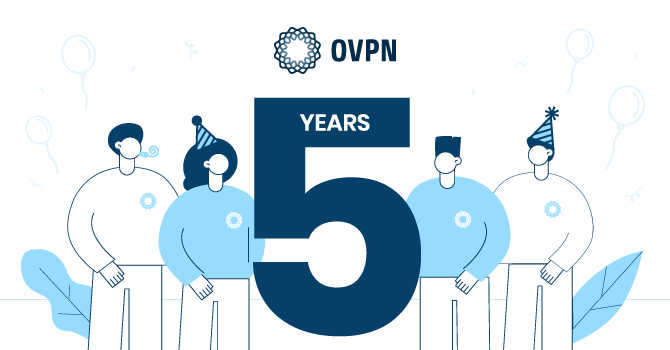 We're officially five years old, since we had our first paying customer on August 20th, 2014. I stated last year that I believe that OVPN is the most secure VPN service in the world, which is a statement I still believe rings true.
Last year, we had 59 VPN servers in 7 countries. But during the last 12 months, we have deployed 13 new VPN servers which means we now have a total of 72 VPN servers in 15 cities across 11 countries. All of our VPN servers enjoy the same strong physical security which ensures that no logs can be created nor stored.
I specified five areas of improvements last year that I wanted us to focus on until today. I'm glad to say that we're been able to accomplish the majority of them:
We wanted to expand to four new countries. We've done that since we've deployed servers to Paris, Madrid, Copenhagen, Zürich, London and New York.
We wanted to evaluate and test Wireguard. We've done that but we haven't deployed any Wireguard servers as of now.
We wanted to improve our desktop client. We've improved it a lot but there's still a lot of work let before we're satisfied with it.
We wanted to improve our website, which we've done as we've updated all guides, created a configuration generator, clarified our policies and improved our emails.
We wanted to increase the number of cryptocurrencies that we accept.  We've only been able to add Bitcoin Cash so far, but we hope to include more going forward.
There are three areas of improvement that we will primarily focus on during the upcoming year:
Deploy VPN servers in even more countries. Our previous solution was to colocate three VPN servers and a switch per datacenter. That approach turned out to be too expensive as we needed to rent 10 height units in a rack as well as purchase the needed hardware. We have modified our deployment setup so we only need to colocate one server, without reducing any of our security requirements.
Our VPN client for Windows, macOS and Ubuntu. We will continue improving it until it matches our, and your expectations.
Improve our infrastructure. Wireguard is one of the planned improvements.
Please feel free to reach out to us and specify what you want us to focus extra on, as well as where you want us to colocate new VPN servers.
Finally, we want to thank all our customers for the feedback we've received during the previous year and for making this journey possible. We're super motivated to show what we have planned for the next year!