WireGuard is a new VPN protocol that uses state-of-the-art cryptography. It aims to be securer and more resource efficient than other VPN protocols. We have previously been able to measure around 2 Gbit/s in throughput during full load on our OpenVPN servers. With WireGuard, we've been able to achieve speeds of up to 4 Gbit/s on the same hardware.
The chart below contains benchmarks from WireGuards website, comparing various VPN protocols: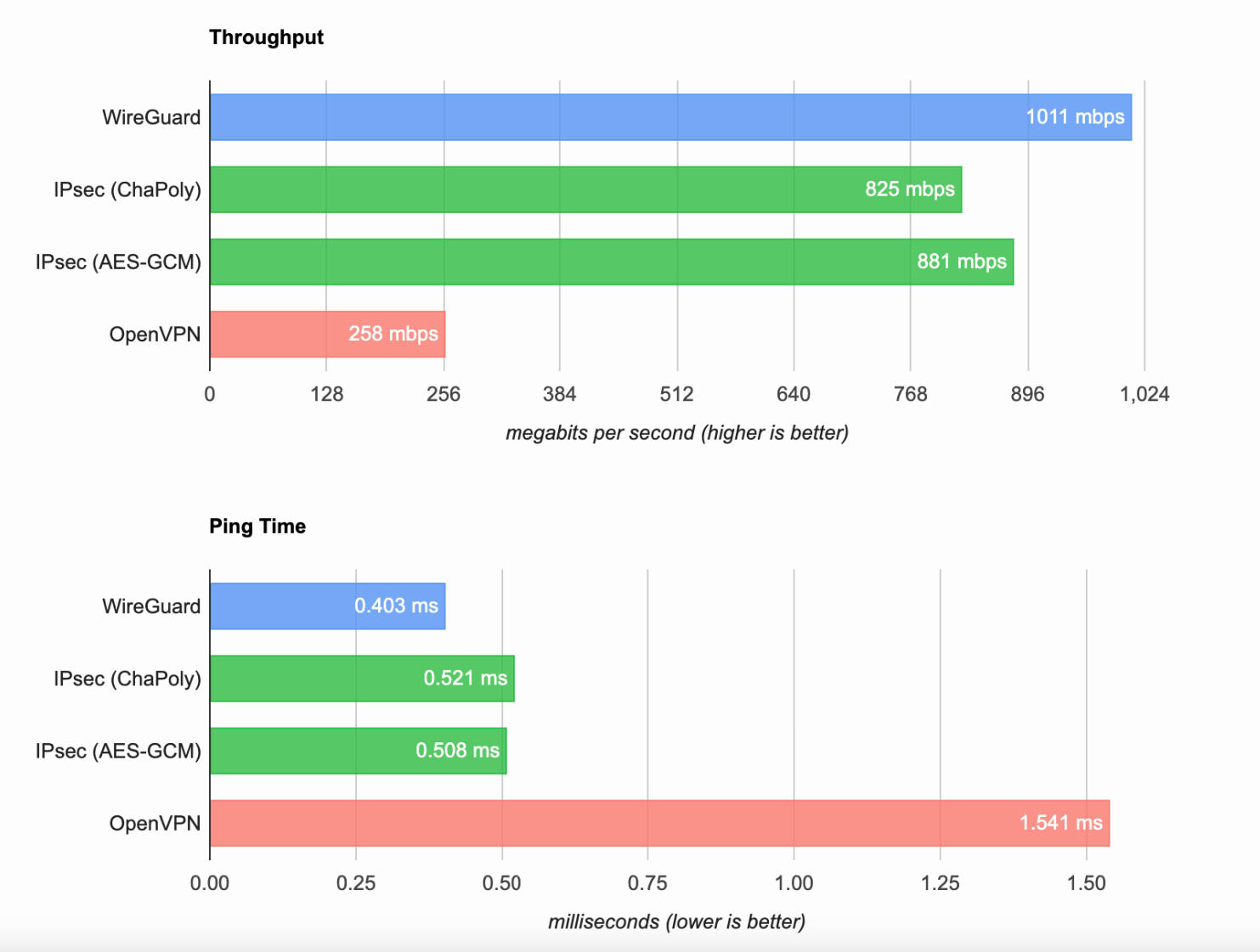 And it's not only our VPN servers that will be able to encrypt traffic in higher speeds, but also the devices that connect to our WireGuard servers. Routers and cellphones generally have too weak processors to deliver good speeds with OVPN - but that changes now.
WireGuard has roaming built-in which results into a seamless experience on cellphones when leaving a Wi-Fi network to mobile data (4G). Connections to VPN servers happen instantly, instead of the 20-40 seconds that OpenVPN usually takes.
Open beta
We can ascertain that we're very satisfied and impressed with the internal Wireguard tests we've carried out the last six months. We're so satisfied that we have decided to launch an open beta for all customers that wish to test WireGuard.
As a starting point we have deployed WireGuard on our VPN servers in Gothenburg and the new VPN servers in Sundsvall. After we have received feedback and potentially carried out changes in our implementation we will continue deploying WireGuard to more and more of our data centers until it's available in all of our regions. Therefore, we will have a period of increased maintenances during the upcoming months for the rollout.
Streaming services and port forwarding has been integrated into our WireGuard implementation. Public IPv4 and Multihop has not been integrated yet, but we intend to integrate it further on. We will also eventually integrate WireGuard into our desktop client for Windows, macOS and Ubuntu, but for now we recommend using the official applications in our Wireguard guides.
Don't hesitate to reach out in case you experience any issues while testing. Our FAQ will be expanded during the next weeks to include more tips and assistance regarding Wireguard.
---
WireGuard is a registered trademark of Jason A. Donenfeld.