OVPN desktop client: Update now available via online installer!
Today marks the first official online update/release of the OVPN desktop client. Given that you have v1.2.1 installed on your system, you are now able to update the client via the notification shown to you at launch. The update is just one click away and requires no additional work. Most additions to version 1.2.2 won't be directly noticable, but under the hood we've added several bug fixes and UX improvements such as properly reconnecting after coming back from sytem sleep mode and resetting stuck killswitches. Please let us know if you're experiencing any problems!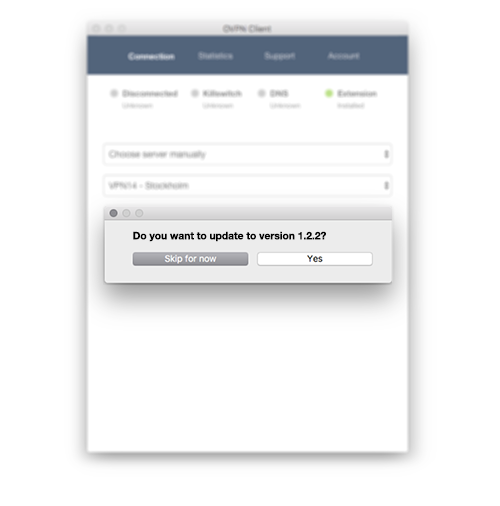 How can I update the desktop client?
If your current version is v.1.2.1
Launch client
You will now see a notification pop up asking you if you wish to update to version 1.2.2.
Click Yes
Wait for the installation to finish and enter password if asked for it
As soon as the installation finishes the latest version will now launch automatically.
Enjoy your privacy!
If you have a version older than 1.2.1
As 1.2.1 is the first version with online update support, you need to install 1.2.2 the old-fashioned way if you're on an older version. You'll find the installers for each operating system below:
Download OVPN desktop client for Windows
Download for Mac OS X
Download for Ubuntu
Release notes for desktop client v1.2.2
Killswitch is reset on launch in case it got stuck in an earlier session.
Autostart is turned off properly when toggled in the account tab (Windows).
Native system notifications are shown on connect and disconnect on OS X.
TAP driver is enabled/installed on launch if it's disabled/uninstalled on Windows.
The desktop client works natively for Ubuntu 17.04 and Ubuntu 17.10
OpenVPN is installed via binaries instead of via OpenVPN GUI (Windows)
Killswitch can now be reset via tray menu item if stuck.
Fixed problem with frozen window when coming back from sleep mode.
Client starts automatically after installation or update.
OVPN.app is now placed in folder under /Applications on OS X along with OVPN Uninstaller.app.
DNScrypt is no longer force quit when disconnecting.
Changed application name to "OVPN" in all windows and processes.
Server list is split into countries.
Fixed bug where front-end couldn't catch errors from back-end correctly resulting in incorrect error messages being displayed to users.
Properly parse computer usernames containing Swedish letters.
It is no longer possible to connect to a server marked as offline.
Replaced openvpn status polling with bytecount to cleanup log files.
DNScrypt requests are now cached on users's computer for quicker browsing.
Solved bug where client interface was unresponsive if minimized and opened via finder.