The latest OVPN desktop client is released as open beta as of today. Version 1.2.1 introduces a new online installer that will allow for updates to be performed with one click in the future. We've also updated the entire desktop client codebase to use the latest Qt version (5.9) along with several minor updates. As always, let us know about any problems or feedback at support@ovpn.com
Windows online update 2017-11-03
Please note that we as of today, 2017-11-03 pushed an additional update for Windows via our new online update delivery system. This update will take care of issues related to unusual signs not beign accepted when attempting to connect. Anyone who've donwloaded the most recent version of the client will automatically receive a push notification that allows you to update automatically.
Online installer & one-click updates
The most obvious update in this version is the introduction of the Qt online installer which will allow all future updates to be performed with the click of a button.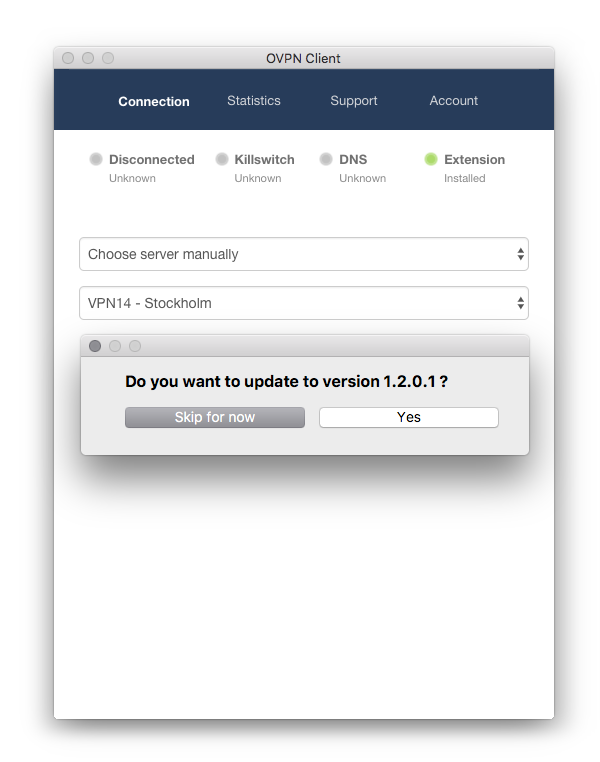 The idea with the online installer is to make updating less of a hassle for the user, as well as allowing us to push urgent updates quicker than before. Once we are ready to release our next update you will receive a small notification as seen in the screenshot above. Once you click "Yes" the update is fetched and installed from our online repository. Usually this is done withing a couple of seconds and all you have to do to enjoy the updated OVPN desktop client is relaunch it after the update finishes.
Confirm shutdown
As a security measure we've also introduced a shutdown confirmation UI notification when the user closes the desktop client. The shutdown confirmation is only shown when the user closes the software while connected to OVPN and works to prevent the user from shutting down the VPN tunnel by mistake.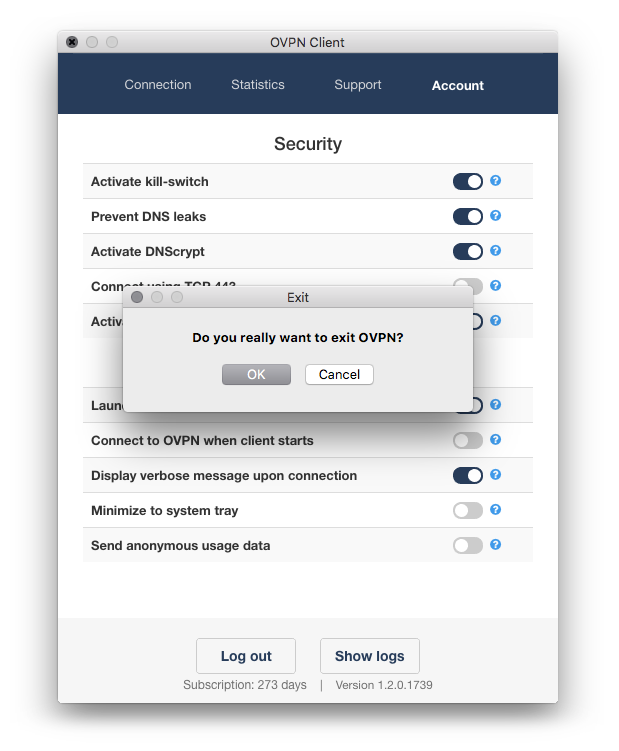 Release notes for version 1.2.1
Added Qt online installer v3.0 that allows for updates directly via UI
Updated the entire codebase to latest Qt framework version 5.9
Added UI notification that asks user to confirm shutdown when closing the desktop client while connected.
Fixed bug where password sometimes wasn't sent to management interface causing connection timeouts
Killswitch is now restored on launch to allow for logging in after a killswitch fire event.
E-mail can now be used to log in in addition to username
Bundle is now properly code signed on OS X
Upload and Download information is now displayed on dock icon on OS X
Desktop client can now be minimized to tray icon on OS X
Installation
You can download the client using these links
Windows: https://files.ovpn.com/client/latest/OVPN.exe
Mac OS X: https://files.ovpn.com/client/latest/OVPN.zip
Ubuntu: https://files.ovpn.com/client/latest/OVPN_amd64.run